The Huisen Cultural Choir
We are happy to support a group of 20 teenagers aged between 14 & 20 years who will perform a show which will live on in your memory for years to come!
The show is performed at the OA HERA NAMIB BACKPACKERS AND CULTURAL CENTRE, it is usually 1 hour long (if the children can be stopped!) and will take you through a very special performance of songs and dances which enact scenes and happenings of the everyday life of the Nama people. Some songs depict a traditional marriage, an initiation to adulthood, or the casting out of a troublemaker from the community, other songs carry a moral message like the importance of being faithful or not giving in to people who will have a bad influence. You will also be initiated to the special clicks of the Nama language.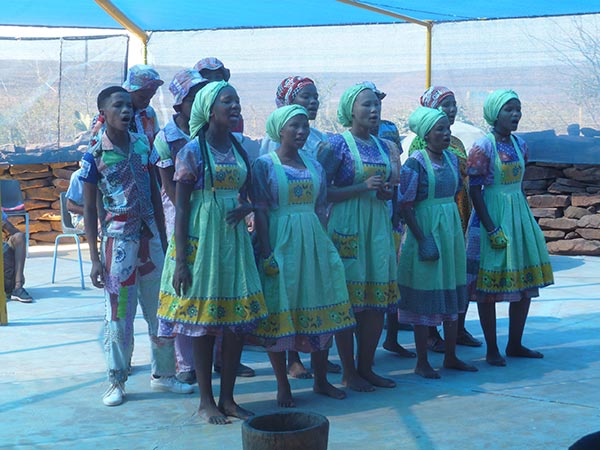 The show with the children is a very professional sequence with colorful costumes and a skilled choreography, performed in an atmosphere of happiness and fun, you will be surprised how much our group of children drawn from disadvantaged sections of our town have to offer, and by the time the show ends you will be wondering how a simple cultural show out here could give you so much!
The Huisen Cultural choir was initiated 15 years ago and has gone a long way in teaching the children of our community the importance of perseverance, hard work and personal commitment. To build and perform a complex show for an audience of visitors from abroad shows our children that the culture of excellence is a personal fulfillment that they can all achieve, these children will live their life with the awareness that it is the efforts, the discipline and the passion in what we do that brings us success.